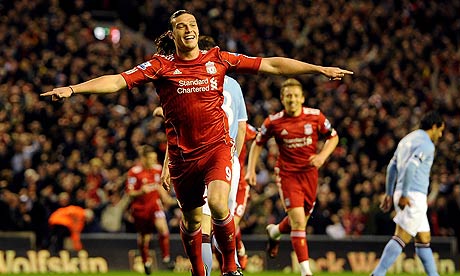 As a fixture of the XI:

Carroll has started 22 games (from a possible 41) in all competitions this season, 15 of those as Premier League games. In these games, he has scored just 4 goals, assisted a further 3, and hit the woodwork on 3 occasions. Mere inches make all the difference.

Of the 15 Premier League games in which he started, we picked up 28 points from the 45 available, winning 8 of the 15. That's 1.86 points per game. Football doesn't work like this, but it's nice to place yourself in a better position by fiction: A 1.86 points gain per game would put us currently on 56 points, in fourth place, two points behind third placed Arsenal. How does this differ from the games in which we start without Carroll? Without Carroll this points per game ratio drops dramatically to 1.13. Why is this? Coincidence? Do we play higher up with Carroll in the side as we can't avail of the option of pace? Do we pack the attacking midfield with more players to combat Carroll's lack of Suarez-styled agility and creativity? Does it avoid the ridiculous position in which we put Suarez, that of a lone striker? Is it because with Carroll in the side, the role of each player is more defined, as opposed to us just lumping players into recognisable positions, but without a definite role?

Of the seven cup games in which he started, we won all seven, but then so far we have essentially won all cup games, haven't we?

As a substitute:

Carroll has played the role of a used substitute on 16 occassions, leading to 278 minutes (plus 50 minutes of injury time, approx.) on the field, scoring two goals in the process. Only on 5 of the 16 occassions were we in a winning position where Carroll could be thrown in to ride the wave. Of the other 11, Carroll was used to salvage a point or stretch a draw to a fortunate win, failing each and every time. Why didn't Carroll start against QPR or Wigan recently when he had proved his worth in a functional system against Everton and Stoke is beyond me.

He scored two goals as a substitute, both in Cup games to extend an already comfortable lead.

Two other stats:

We've won one game in which Steven Gerrard has started in the Premier League this season. Every goal we've conceded was with Pepe Reina between the sticks. And neither of them are shit, so really stats are there to fuck with your head.

The question as needs to be asked:

As Kenny has said, is it time to "change our philosophies a wee bit", keep Andy and use him for all his strengths, or is it time to sell Andy, build the squad around Suarez, and admit that our transfer dealings since Suarez have been somewhat abysmal?

This post has been promoted to an article
Edited by 0, 27 March 2012 - 11:07 AM.